The hardcover, in its 8th printing!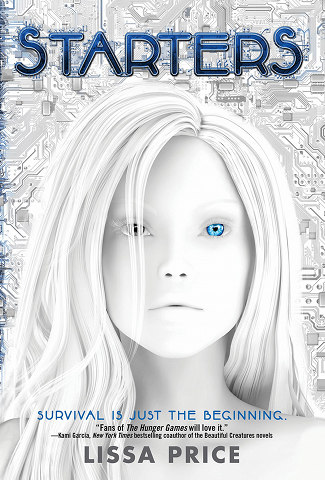 In a near-future Los Angeles, becoming someone else is now possible. Sixteen-year-old Callie discovers the Body Bank where teens, called Starters, rent their bodies to seniors, called Enders, who want to be young again. But when her neurochip malfunctions, she wakes up in the mansion of her rich renter and finds she is going out with a senator's grandson. But there's no time to enjoy her fairy-tale new life, because she must solve the mystery of her renter's deadly plan.
Starters is a YA futuristic thriller, where the emphasis is on suspense.
PRAISE FOR STARTERS:
"Starters is a smart, swift, inventive, altogether gripping story. Callie Woodland, the narrator, deserves a series and I'm sure she'll get one!" – Dean Koontz
"A very good read, a sparkling choice!" SFWA Grandmaster Harlan Ellison
"This one has definitely gripped my attention… I strongly recommend this book…" The Guardian.com
"The only thing better than a terrific concept is one that is as well executed as "Starters." Readers who have been waiting for a worthy successor to Suzanne Collins' "The Hunger Games" will find it here. Dystopian science fiction at its best, "Starters" is a terrific series kickoff with a didn't-see-that-coming conclusion that will leave readers on the edges of their seats, waiting for the second and final book, "Enders," which will be out this year." Susan Carpenter, LA Times
"…chilling and riveting debut… with exquisite pacing, Price weaves a tale of intrigue… A page-turning first novel about the quest for youth and beauty — at the cost of one's life, soul or treasure." Jennifer M. Brown, children's editor, Shelf Awareness
"Newcomer Price launches a dystopian series that offers…a notable command of technique. Raising questions about class, property, and body/mind separation, Price's thriller features well-crafted tension, believable villains, and moments of stolen sweetness." Publishers Weekly
"…twists and turns come so fast that readers will stay hooked. Constantly rising stakes keep this debut intense." Kirkus Reviews.
"Starters is a dystopian read you'll want to snatch up for yourself . . . With its intriguing plot-twists and dash of romance, Lissa's novel is a bona fide pageturner that proves you can't take anything—or anyone—at face value." MTV.com's Hollywood Crush
"Price is a gifted writer." Lionel Shriver, The Book List, The Week Magazine.
"…twists along with multiple-identity switcheroos and chase scenes worthy of a Hollywood blockbuster… the inevitable sequel can't appear soon enough." Booklist
"Adrenaline-spiked action and cyber-punk intrigue combine in this sci-fi thriller." Barnes & Noble, Best of the Month
"Fast-paced, romantic and thought-provoking, the jaw-dropping ending left us starving for a sequel." Justine Magazine
"Its generation versus generation conflict makes Price's first novel an obvious companion to The Hunger Games, and its fast pace and resourceful female protagonist extend this comparison."–Amy S. Pattee, Simmons College, Boston, School Library Journal
"For the next, best entry into the crowded future-dystopia teen novel genre, look for Starters by Lissa Price." Los Angeles Times Spring Preview: Books
"Fans of The Hunger Games will love it." – Kami Garcia, coauthor of the bestselling BEAUTIFUL CREATURES/Caster series
"Hard to imagine a young adult reader who would not be interested in this book"- VOYA
"Just finished reading Starters by Lissa Price and gotta say it was really good! I have trouble getting into books, but couldn't put this down. I literally never finish books. I'm usually more of a movie person, but loved this book. Hope they make a movie out of it too." – Megan Nicole, Bad Boy/Interscope recording artist
"The concept is compulsively gruesome… Price develops her plot and characters with tight, punchy writing and a sure, confident touch. There must be a movie in this – a Cocoon for the computer generation." – The Daily Mail
Random House Children's Books, Delacorte, published my debut on March 13, 2012. It's the first in a series available in hardcover, all ebook versions, as well as an audiobook done by the same people who did Harry Potter, Twilight and Eragon. It will also come out in over thirty countries including Germany, Italy, U.K., Taiwan, Korea, Portugal, Canada, Spain, Brazil, Turkey, France, Hungary, Holland, Thailand, Slovenia, the Czech Republic, The Philippines, Poland, Australia, New Zealand, India, Greece, Russia, Indonesia, Romania, Japan, Iceland and most recently China.
In Germany, STARTERS is launching a brand new YA line called IVI from the major publisher Piper Verlag. Go here to see the gorgeous catalog and trailer: http://lesen-was-ich-will.de/vorschau/index.html. In their audiobook, Callie is voiced by the wonderful Annina Braunmiller, who voices Bella for the Twilight films and audiobooks.
STARTERS is an international bestseller now. It also debuted at #2 on the SoCal Indie Bestseller List and stayed for three non-consecutive weeks there. And it was on the Pacific Northwest Indie Bestseller List as well. It was a Barnes & Noble Teen Pick of the Month for March as well as an Amazon Best of the Month in Young Adult for March, making several Amazon bestsellers rankings in YA. It has been nominated for a YALSA award.
The book trailer that Random House commissioned played before The Hunger Games movie, opening weekend, in many cities across the US and in the UK and the Philippines.
Rockstar bestselling author Kami Garcia (co-author of Beautiful Creatures) was kind enough to give STARTERS a wonderful cover quote.
The official Random House site is http://www.StartersBooks.com. It's like stepping into the future. You can learn more there and see the cover to the e-story, the prequel to STARTERS called "Portrait of a Starter," and "Portrait of a Marshal." There's also a free interactive Facebook game at StartersBooks on FB.
This link will take you to a sample of the American audiobook: http://www.booksontape.com/bookdetail.cfm/YA1881
Hypable picked STARTERS for their Summer Reading List – science fiction. And Scholastic picked it for their Book Club.
STARTERS is available through the links to the right, up at the top of this page. If you wish to get a signed book by mail, even internationally, contact Once Upon a Time Bookstore in Montrose. I also have signed books in stock at Vroman's & Flintridge Books.
If you would like a copy inscribed personally, it's best to call Once Upon a Time. They will ship within the US as well as internationally.
LATEST NEWS:
Barnes & Noble picked Starters as one of the Best Teen Books of 2012, 1 of 4 debuts.
Starters won the Crimezone Award for the Best YA Thriller (foreign) in the Netherlands.
Starters was chosen by readers in Germany as their 9th favorite YA book of 2012!http://www.lovelybooks.de/leserpreis/2012/Kinder-Jugendbuch/
Starters was given the its Eselsohr Award in Germany for The Best YA Book of 2012, chosen by a jury of teens.
LAPL picked Starters as one of the Best Teen Books of 20121 of 4 debuts.
See me in Jan Writer's Digest
The Chicago Public Library picked Starters as one of the Best of the Best
French readers picked it as one of their twelve favorite books of the year, only one of two YAs here.
Scholastic Books purchased Starters for their Book Fair, which extended through the fall semester of 2013. It was also be in both of their book clubs. This is a special edition paperback but with the original hardcover silver cover design.
Starters came out in paperback on July 23 with an exclusive short story (approx 25 pages) called "Portrait of a Spore." I love this story that gives insight into the Spore Wars.
Starters was chosen to be on several reading lists – the IRA list, and Florida State (0n both the YA and MG lists), Missouri and New Hampshire.
A high school in Canada picked Starters as their read of the year, 1100 people reading it during two weeks (see blog for photos).
Starters just published in Japan and was spotted in the bestseller section. It went into a second printing after a month in Taiwan.
Starters and Enders just sold to China!