Liam Hemsworth – Gale
This is an a rarity in a time when the trades are being printed much smaller. A Big (like the old Rolling Stone) collector's edition with a special section devoted to The Hunger Games film.
Josh Hutcherson – Peeta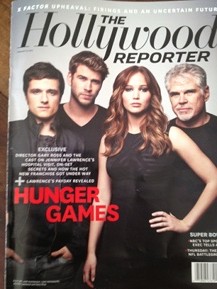 With Jennifer Lawrence (Katniss) and Gary Ross, the director. Note this is a publicity photo, not the actors in character. Still, from this photo, who would you pick? Peeta or Gale? I'd be tempted to switch the casting.
Exclusive HG interviews in this special section, as well as lots of pre-Oscar info and pics.
Now for the really fun part? Would one of you like to own this special 84-page issue? Check back tomorrow!