THE CONTEST IS OVER!  I HAVE WINNERS FOR MY SIDE CONTEST.
From the rafflecopter – two winners of the chapter sampler and bookmarks: Sarah K. and Mandy S. And  Orchid is the grand prize winner.
The International winner is Hannah McC from the U.K.
I picked the last winner of the chapter sampler and bookmarks from the comments and that is Suz @ a soul unsung!   All winners have been contacted. Thank you everyone, for playing. I sometimes go back and pick other winners, I also run flash twitter contests, so continue to follow me there and on FB and you'll be the first to know.
This is the part you probably already know:
Welcome to YA Scavenger Hunt! This tri-annual event was first organized by author Colleen Houck as a way to give readers a chance to gain access to exclusive bonus material from their favorite authors…and a chance to win some awesome prizes! At this hunt, you not only get access to exclusive content from each author, you also get a clue for the hunt. Add up the clues, and you can enter for our prize–one lucky winner will receive one signed book from each author on the hunt in my team! But play fast: this contest (and all the exclusive bonus material) will only be online for 72 hours! This begins 11/29 at noon Pacific Time. 
Go to the YA Scavenger Hunt page to find out all about the hunt. There are TWO contests going on simultaneously, and you can enter one or all! I am a part of the BLUE TEAM–but there is also a red team for a chance to win a whole different set of twenty-five signed books!
If you'd like to find out more about the hunt, see links to all the authors participating, and see the full list of prizes up for grabs, go to the YA Scavenger Hunt homepage.
SCAVENGER HUNT PUZZLE

Directions: Below, you'll notice that I've listed my favorite number. Collect the favorite numbers of all the authors on the blue team, and then add them up.
Entry Form: Once you've added up all the numbers, make sure you fill out the form here to officially qualify for the grand prize. Only entries that have the correct number will qualify.
Rules: Open internationally, anyone below the age of 18 should have a parent or guardian's permission to enter. To be eligible for the grand prize, you must submit the completed entry form by Sunday, December 2, at noon PST. Entries sent without the correct number or without contact information will not be considered.
Hi!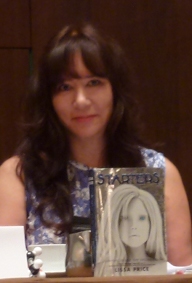 I'm Lissa Price, author of STARTERS, the dystopian thriller where desperate teens rent out their bodies to seniors so they can be young again temporarily. Welcome to my site! I hope you'll come back and have a look around later because I hold contests here and on my FB and Twitter. But for now, on with the contest.
Today, I am hosting Corrine Jackson on my website for the YA Scavenger Hunt. Corrine Jackson lives in San Francisco, where she works at a top marketing agency, managing campaigns for several Fortune 500 clients. She has bachelor and master degrees in English, and an MFA in Creative Writing from Spalding University. Visit her at CorrineJackson.com or on Twitter at @Cory_Jackson.
Find out more information by checking out Corrine's website or find more about her book here.
TOUCHED Exclusive Content you can only read here:
Check out this exclusive scene from TOUCHED to see what happens the first time Remy and Asher touch. TOUCHED is now available at your local bookstore.
The music started inside with Brandon's distinctive guitar riff, and I hesitated, giving Asher a chance to leave first to avoid any accidental touches. The smokers stamped out their cigarette butts and hurried inside, letting the door slam shut behind them. I watched Asher's shoes, noticing the expensive leather boots, and waited for them to shift as he got to his feet. Except they didn't. The charged, heated air swirled between us as neither of us moved.
It was another challenge, I realized. My breath hissed out in frustration as I stood to leave. He rose at the same time, crowding me between the two tables and knocking me off balance. I stepped back to avoid his touch and tripped over the table leg. My mental wall dropped. Strong hands grasped my waist to pull me upright, hitching my blouse up at the ribs a little as he caught me, and his hand slipped to skim bare skin.
The sparks of heat kindled where his fingers touched my waist and spread in little licks of green fire. Without my shield, the hot wave of energy crashed in on me, his energy flow like a heat-seeking missile.
The pain of that ambush scorched my skin, beginning where he touched me and radiating over my body like a fiery breeze. Inside, the opposite of fire stripped away my defenses, and I gasped as ice shards rushed straight to my heart, causing it to beat in a sluggish rhythm. A black fog descended when it froze, and my focus narrowed to Asher's face.
For the second time in a week, my body took over. It gathered all my pain and shoved it outward. Red flames shot from my skin to his.
Asher yanked his arms back as if he'd been burned by the inferno. The current of energy coming from him cut off.
I doubled over and grabbed hold of the nearest chair as my heart started pounding in double time. My glare took in the pallor of his tanned face and the sweat dotting his forehead, as I raised my mental defenses. Too little, too late. He stood ramrod straight, his expression pained. He hurt, I realized. I'd done that. My angry smile turned fierce with pride.
A waiter stepped on to the patio, and I tried to blend once more into the crowd. When I was sure I could move without falling, I turned my back on Asher and walked into the club.
The door didn't open behind me, and I assessed my body. The pain had dissipated, but I remained weak. Not as bad as after I'd hurt Dean, but then this pain had been different. I hadn't absorbed another's injuries in the process of'¦What? I wasn't sure what I'd done, except that my body could now cause pain in addition to taking it away. Twice the freak.
And now Asher knew, too.
He'd think twice before he touched me again.
About TOUCHED:
Remy O'Malley heals people with touch – but every injury she cures becomes her own. Living in a household with an abusive stepfather, she has healed untold numbers of broken bones, burns, and bruises. And then one night her stepfather goes too far. Being sent to live with her estranged father offers a clean start and she is eager to take it. Enter Asher Blackwell. Once a Protector of Healers, Asher sacrificed his senses to become immortal. Only by killing a Healer can a Protector recover their human senses. Falling in love is against the rules between these two enemies. Because Remy has the power to make Protectors human again, and when they find out, they'll be coming for her – if Asher doesn't kill her first.
WIN
And don't forget to enter the contest for a chance to win many books, including STARTERS. To enter, you need to know that my favorite number is 88. Add up all the favorite numbers of the authors on the blue team and you'll have all the secret code to enter for the grand prize!
BONUS GIVEAWAY – EVEN THOUGH RAFFLECOPTER QUIT EARLY, LEAVE A COMMENT AS PER THESE INSTRUCTIONS AND YOU'LL BE ENTERED. 
To enter, follow me on FB at www.facebook.com/lissapriceauthor and Twitter www.twitter.com/lissa_price if you don't already. I'd also love a "like" on Amazon next to the title. If you've read Starters, reviews or just ratings on Amazon and GoodReads are always welcome (thank you). Then I highly recommend you  COMMENT below for an extra point leaving your e-mail (it should be a non-spam bot friendly format like AT gmail DOT com) and then enter via the rafflecopter.
One grand winner here on my site for everything you see above (US only): An inscribed, signed hardback copy of STARTERS, a collectible chapter sampler of STARTERS, 5 postcards, three bookmarks, one of the last pins and a special  STARTERS mousepad! (I only made three of these and this is the last one).
Three additional US winners will get a signed chapter sampler of STARTERS and bookmarks.
One International winner will get a hardback copy of Starters sent from the Book Depository (so it cannot be signed, sorry).
a Rafflecopter giveaway   (THE RAFFLECOPTER QUIT EARLY BUT I HAVE THREE PRIZE PACKAGES, SO LEAVE A COMMENT AS PER ABOVE TO BE ENTERED.)

Thanks for following me and playing. Best of luck! The next stop on the hunt is the wonderful, best-selling author, Cynthia Hand!