Welcome to the YA Scavenger Hunt! You can read exclusive content from YA authors and also win big prizes. Add up the numbers, and maybe you'll win one signed book from each author in my team. This is INTERNATIONAL! But play fast: this contest (and all the exclusive bonus material) will only be online for 72 hours!
You do not have to solve the number puzzle to enter my bonus rafflecopter below.
There are 2 contests going on, and you can enter one or both! I am a part of the RED TEAM'"but there is also a blue team so there are two ways to win!
More info is here: YA Scavenger Hunt homepage. But if you know what you're doing, read on.
Below, you'll find the secret number. Collect these from all the RED team authors and add them.
Welcome to my site, I'm Lissa Price, author of STARTERS and ENDERS, the YA duology set in a future L.A. where desperate teens rent out their bodies to seniors, so they can be young again temporarily. Come back and have a look around after the contest!
I am so happy to be hosting the lovely  Liz Czukas, author of the YA contemporary  Ask Again Later.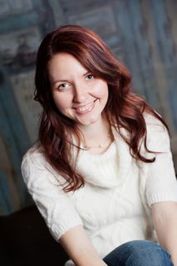 Liz is a freelance writer who lives outside Milwaukee, Wisconsin. Ask Again Later is her first novel. She collects college degrees she doesn't use, types too loud and always has a song in her head. In high school Liz did go to two proms but not at the same time.
About Ask Again Later: Despite what her name might suggest, Heart has zero interest in complicated romance. So when her brilliant plan to go to prom with a group of friends is disrupted by two surprise invites, Heart knows there's only one drama-free solution: flip a coin.
Heads: The jock. He might spend all night staring at his ex or throw up in the limo, but how bad can her brother's best friend really be?
Tails: The theater geek…with a secret. What could be better than a guy who shares all Heart's interests–even if he wants to share all his feelings?
Heart's simple coin flip has somehow given her the chance to live out both dates. But where her prom night ends up might be the most surprising thing of all…
You can purchase Ask Again Later HERE
If you want to know more about Liz you can follow her on twitter here  or check out her website here.
Special Preview!  
Liz has graciously offered to let our lucky readers have a preview excerpt of her 2nd book, Top Ten Clues You're Clueless, which is coming out this December!
(Note: the YASH contest is over and exclusive content is always removed after. But check out her links!)
WIN
To win the YASH contest, you need to know the secret number is 94. Add up all the secret numbers of the authors on the RED team and you'll have all the secret code to enter for the grand prize!
My Bonus Give Away
Separate from the YASH contest, you can enter my  bonus contest!  
First Prize: One YA or MG book of your choice, up to $20. International okay if your city is serviced by Book Depository.
Second Prize: the  UK Version of STARTERS and an audiobook of ENDERS

Third Prize: RUNNING WITH THE PACK, The Werewolves of Laura Anne Gilman, Carrie Vaughn and more
Fourth Prize:  A signed chapter sampler of  STARTERS  and swag for  STARTERS  and  ENDERS
To enter: Follow me on Facebook below! (if you are not on FB, then leave a comment below, that will be one entry – and if you do any of the bonus follows, list them).
You also get one bonus entry for each of the following that you choose to do:
Follow me on Twitter, follow me on Tumblr, follow my website or sign up for my newsletter!
a Rafflecopter giveaway

Good luck, everyone!  
The next stop on the scavenger hunt is Floridian  J.A. Souders,  author of The Elysium Chronicles and more!